Thu.Dec 01, 2011
7 Ways Satan Tries to Destroy a Church
Ron Edmondson
DECEMBER 1, 2011
Be serious! Be alert! Your adversary the Devil is prowling around like a roaring lion, looking for anyone he can devour. 1 Peter 5:8. I'm not a pastor who is constantly looking for Satan behind everything that goes wrong. I concentrate my attention on Jesus and encouraging others to follow Jesus and not to focus on the defeated one. Yet, I'm fully aware that Satan loves to destroy…or attempt to destroy…a church. Obviously Satan is a limited being and God's church is secure.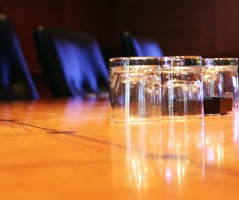 What CEOs Really Think About Values and Culture
C-Level Strategies
DECEMBER 1, 2011
In my role as Chief Relationship Officer for CEO Connection I had the opportunity to sit down recently with a few of our member-CEOs for a conversation about their views on corporate values, purpose and culture. These members are mid-market CEOs , representing companies with an average of $1.6
20 Leadership Books You Might Not Have Read
N2Growth Blog
DECEMBER 1, 2011
By Mike Myatt , Chief Strategy Officer, N2growth. If you know me, or have read this blog for any length of time, you know that I believe all great leaders are also voracious readers. In fact, I would go so far as to say reading is simply a necessity if you're serious about leadership.
5 Ways to Make the Best of Human Capital
Ron Edmondson
DECEMBER 1, 2011
Do you want to harness the greatest power in your organization? The best assets of your church, business or non-profit never appear on your balance sheet. The truth is that any organization is only as good as the people within it.
How to Drive Team Collaboration: Use Two Pairs of Glasses
Lead Change Blog
DECEMBER 1, 2011
Posted in Leadership Development If you wear glasses, you know that owning two pairs is good practice. If your focus is on increasing collaboration and cohesiveness within your team, get ready to try on a new look! The goal? Cultivate collaboration and boost creativity, work performance and passion. Perfecting our Critical Eye When we observe performance (our own and [.]. Leadership Development actions Collaborate communication Leadership trust
More Trending